Cinco de Maio Yerba Mate Margarita
Make a Margarita with our Yerba Matés as your base, … Use two ounces our Hibiscus, Purple Rain or Mint, … then add 2 oz of Tequila & 1/2 ounce of Triple Sec into a Shaker filled with Ice. Shake vigorously and pour into a cocktail glass. Garnish with Lime & Mint Leaves! Enjoy and Repeat!
We raise a toast to all veterans for their service!
The Double Minted Maté Julep
The mint julep is a mixed alcoholic drink, or cocktail, c
onsisting primarily of Kentucky bourbon, water, crushed or shaved ice, and fresh mint. As a bourbon-based cocktail, it is associated with the Kentucky Derby in particular.
Our version is , of course, made with our Yerba Project – Double Minted Yerba Maté.
So here is our Yerba Project MINT JULEP:
Take 10 mint leaves and mash them into the bottom of a pint glass or into the Traditional Silver Kentucky Derby Cup (The mint step is optional when using our Double Minted Maté but you can knock yourself out in the name of tradition!)
Fill a Mixing (pint) Glass with Crushed Ice
Fill 2/3 glass with Yerba Project, Double Minted Maté (no need for the traditional sugar as our Maté is slightly sweetened with Organic Blue Agave)

add 2 ounce Kentucky Bourbon & garnish with a sprig of Mint!
Slowly sip the Julep before and during the race, … then, down it when your horse looses. Repeat.
Yerba Mate 'Dark n' Stormy'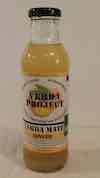 For Mother's Day a Dark and Stormy is the perfect way to wake up and then get through the Day's events with a smile on her face. And using our Ginger Maté will add the energy Mom needs for the festivities!
A Dark and Stormy is a highball cocktail made with dark rum (the dark) and ginger beer (the stormy) served over ice and garnished with a slice of lime.[1].
Here is our recipe loosely based on the original but we substitute the Ginger beer with our Ginger Yerba Maté:
Rub the rim of a Mixing (pint) Glass with rind of lime, spin in dark coconut palm sugar (or, not) and fill to the brim with Ice, …
Fill the 2/3 glass with Yerba Project, Ginger Maté
add 2 ounces Dark Bermuda Rum
squeeze Juice of 1/2 lime
Garnish with a wheel of Lime
Stir.and sip.